What is Marketing Compliance?
Posted by
Jodie Byass

on March 14, 2023

Find me on:

Tweet


The last ten years has seen a major shift in how brands approach marketing. From websites to email campaigns to social media, the digital era has provided a number of new platforms for marketers to engage consumers. In addition to this, marketing teams are juggling traditional advertising mediums such as television and print media with online projects. For this very reason, brands are being taken to task because, with more channels to manage, many are falling short of their marketing compliance.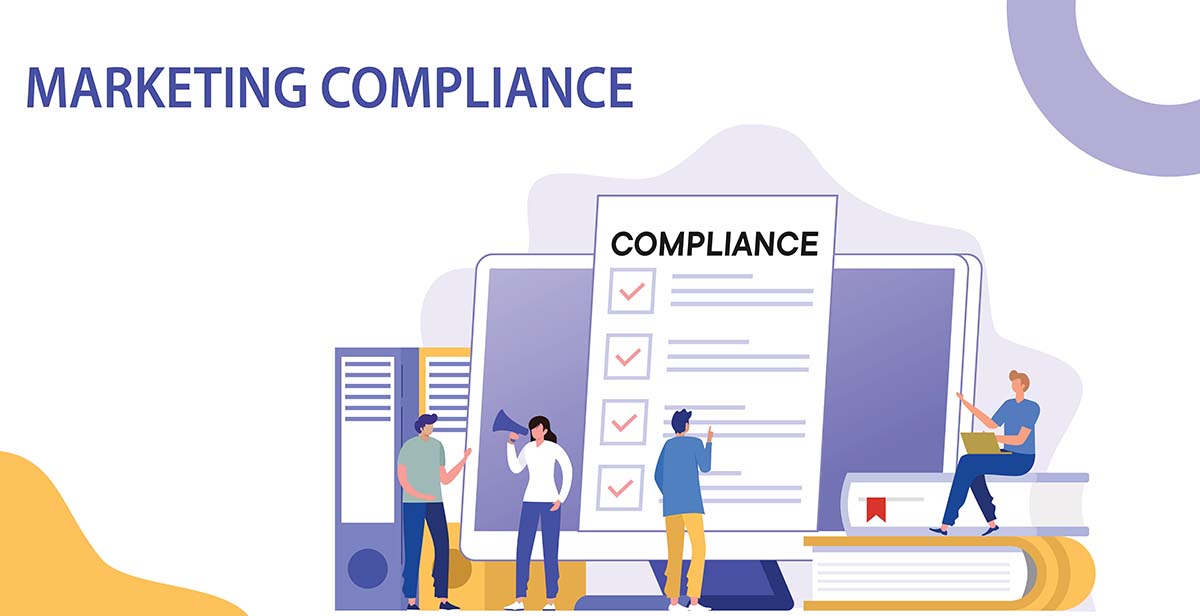 What is Marketing Compliance?
Marketing compliance is a term that refers to a framework of rules and guidelines that ensure that both the brand and consumer are protected. It?s categorised into two main areas: external and internal marketing compliance. Nonetheless, both need to go hand in hand to reassure the brand that it is meeting the highest of marketing standards.
External Marketing Compliance
External marketing compliance is reliant on the regulatory laws and guidelines set by government bodies and consumer watchdog organisations. These laws protect the consumer from being misled, deceived or taken advantage of by a brand. Some of Australia's key bodies that monitor consumer advertising include the Australian Competition and Consumer Commission (ACCC), Australian Communications and Media Authority (ACMA), Office of the Australian Information Commissioner (OAIC), Association for Data-driven Marketing and Advertising (ADMA), and Advertising Standard Bureau to name a few. In America, the Federal Trade Commission (FTC), Consumer Financial Protection Bureau (CFPB) and Federal Communications Commission (FCC) all oversee consumer rights.
To give you an example of how external marketing compliance works, if a business is running a competition, the legal department will need to check over the competition details before the campaign goes live. The reason for this is that legal will need to ensure that the copy adheres to the state/national rules and regulations for running a competition. This is why it's paramount that a brand has a fail-safe approval workflow process in place, to ensure that no campaign is distributed to the public without the necessary stakeholders first reviewing and approving the artwork.
Internal Marketing Compliance
Internal marketing compliance is regulated by the brand itself to ensure that its branding messages and overall identity are consistent across its communications. For example, every business should have stringent guidelines outlining how the brand logo, fonts, colours and messages are to be utilised. Nonetheless, internal marketing compliance is not just about branding guidelines. It might be stating the obvious but the brand needs to ensure that the branding guidelines are adhered to with a streamlined marketing approval process. Without a solid framework for managing approval workflow the right stakeholders involved at the right time, clear communications, a thorough approval process, final and approved artwork ? then the wrong branding or information could go to market. This could result in the brand being poorly perceived by the public or, even worse, being investigated by an external regulatory body for misconduct.
Keeping an audit trail of marketing work is another important facet of managing internal marketing compliance. A brand needs to have a reliable way of tracking every step of its approval workflow. That means all communication and feedback, changes, any collected data, approvals and final artwork need to be accounted for. If a brand was to be investigated, an audit trail might be all that stands between the brand and legal action.
Next we'll take a closer look at some of the risks associated with letting your marketing compliance slip, and why it's more important than ever to protect your brand.
Further reading:
5 ways admation helps legal and marketing compliance teams
Admation introduces approval checklists to help marketing compliance.