Marketing Project Challenges : Managing Project Resources
Posted by
Jodie Byass

on April 2, 2018

Find me on:

Tweet

Effective resource management is not just about checking off project tasks and meeting deadlines. It's also about creating the right space for your team to be at their creative best. How else are you going to achieve that WOW factor in your marketing campaigns? In reality, though, how often are marketers hitting the mark?
If industry reports are anything to go by, nearly 60% of inhouse creative teams are crying poor in terms of resources. This means employees are overworked, overwrought and, it'd be fair to say, not on their best game. Marketing project management software with integrated resource management is changing the way marketers work. With an inbuilt resource planner, task timers and an overview of work in progress, marketers now have greater transparency over their resources than ever before.
And the proof is in the pudding. For brands managing marketing resources effectively, it has been demonstrated that one marketing resource can double the output of another less efficient one. Coincidentally, marketers who are effective in their role are seven times more likely to have a centralised resource planner to plan and allocate work.
Aquent, a creative recruitment agency, unearthed the following:
"Our calculations show that companies using an MRM (Marketing Resource Management) solution typically achieve the same marketing results with:
One-third fewer internal resource costs
One-half the agency spend
One-eighth reduction in media, production, and materials spend

… all without losing marketing effectiveness."
Aquent.com, '
The business case for marketing resource management (MRM): Increasing ROI through more efficient use of marketing resources
'
How to solve these marketing resource management issues
Let's take a look at some of the major challenges marketers face with managing their resources, and we'll demonstrate how admation can solve these issues with its integrated resource management features.
1. CHALLENGE: No structured resource management
All too often marketing resources are managed on an ad hoc basis, which means resources are allocated to tasks as they arise instead of being planned and allocated through a resource management tool. Without a framework from which to manage resources, it's difficult for marketers to manage their workloads effectively, let alone meet deadlines and budgets. Another common mistake marketers make is having one tool to manage their projects and another to manage their resources. In fact, Get App's 'Project management software features report: is 2017 the year to replace your current solution?' revealed that up to 95% of project managers are still using multiple tools to manage their creative projects. Exactly how painstaking do you want project and resource management to be?
ADMATION SOLUTION: Resource planner
Admation's Resource Planner eliminates tedious administration and enables marketers to manage their marketing resources with greater convenience and ease.
2. CHALLENGE: A lack of transparency over resources
It's not uncommon for marketers to receive urgent tasks and projects to complete. If they have no visibility over resources, however, then work is usually added onto the pile of an already burdened resource. Overworked staff who are continually stressed out is one sure way to suck the creative juice out of your campaigns, not to mention increase the likelihood of having high staff turnover. Another scenario sees marketers becoming too reliant on freelancers to deliver urgent requests, which can lead to a decrease in ROI across marketing projects.
ADMATION SOLUTION: Visual display of all resources
Admation's visual display of all resources means that marketers can login and ascertain in just seconds exactly where resources and tasks are at.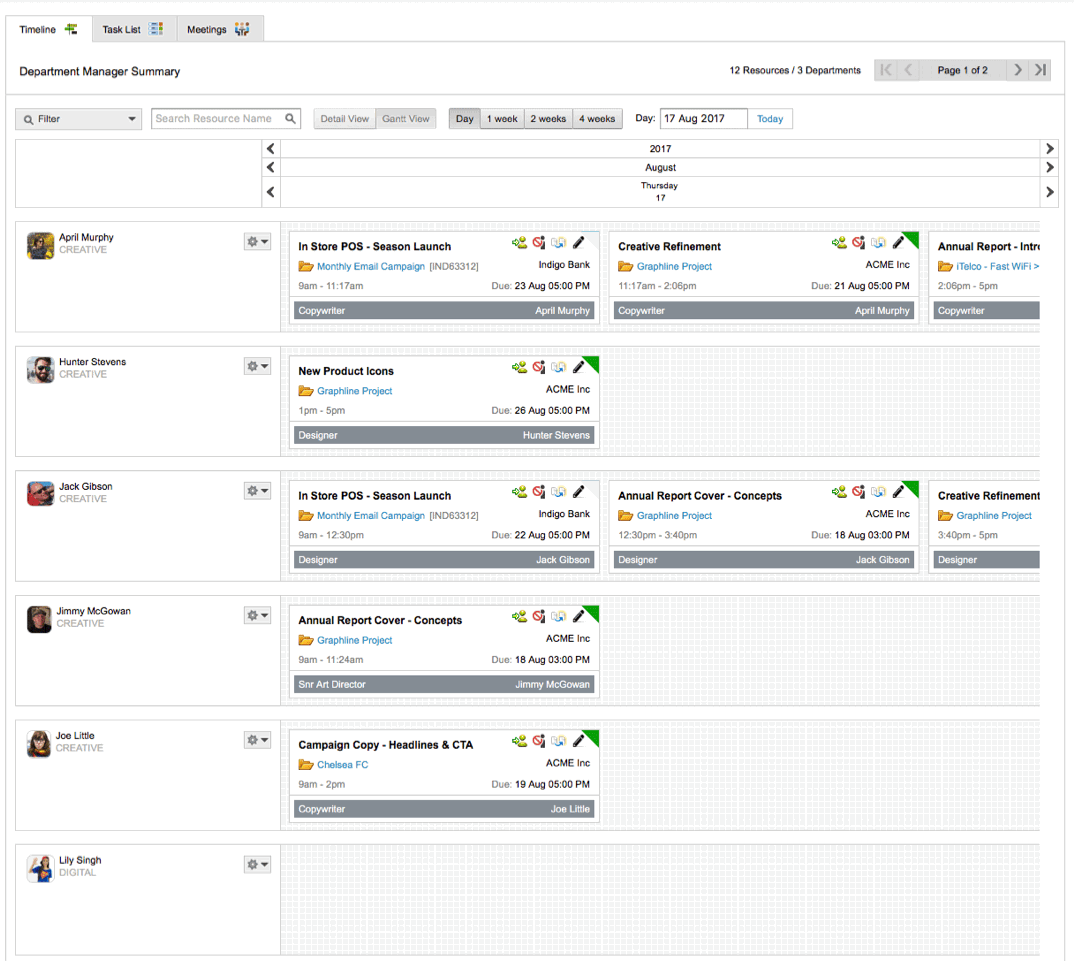 3. CHALLENGE: Can't reassign tasks easily
Think about it: someone calls in sick on a day that an urgent task is due. How long will it take you to confirm a resource who can re-prioritise his/her work at such short notice? If you have little transparency over your resources, then the simple job of reassigning a task is probably stealing precious time from your workday. Perhaps you'll have to trawl through a spreadsheet (a staggering 88% of which have been shown to have errors) to see who else is available or make some urgent calls to reassign the work. And even then, you're probably just adding more work onto a resource who is already maxed out.
ADMATION SOLUTION: Reassign task feature
Marketers can ascertain in just seconds who has the capacity to complete the task and then in a few quick steps re-allocate the work using admation's Reassign Task feature.
4. CHALLENGE: Overbooking resources
How often are your resources overbooked? It's not uncommon for resources to be either mistakenly double booked or already beyond capacity because, when it comes down to it, nobody has a clear overview of who is doing what and when.
ADMATION SOLUTION: Full Capacity Mode
When a resource is at full capacity, admation's Full Capacity Mode displays '100%' which is highlighted in red so that you can't mistakenly allocate more tasks to that resource, as seen in this screen.
Perhaps its a good time to check out our guide on Managing Marketing Resources with MRM Software.
{{cta('28499ac5-c329-414e-a53d-f457b78dbedf','justifycenter')}}