Capitalise on surging video trends with admation's video markup
Posted by
Jodie Byass

on March 12, 2019

Find me on:

Tweet

It's predicted that in 2019, 80 per cent of the online content we engage with will be video-based. So why is video outperforming other types of content?

For starters, video is more accessible for viewers as it utilises the two top senses: sight and hearing. We also process video content exponentially faster than written content. That's 60,000 times faster if reports are accurate. Subsequently, marketers are finding it easier to illicit an emotional response and build trust through video content.
It's a no brainer to use video content as a marketing strategy.
The stat's speak for themselves. CMI's B2C Content Marketing report found that respondents rated video as one of the top three most effective B2C marketing strategies. Meanwhile, Hubspot discovered that "Using the word 'video' in an email subject line boosts open rates by 19% and clickthrough rates by 65%." In addition, most consumers believe that video content can assist them with the purchasing process.
The other great thing about video is that it provides marketers with a range of ways to present entertaining and useful content for audiences. Think live steaming, event updates, interviews, educational information, animated and augmented reality formats, and much more.
So how can admation help?
Admation can streamline your video production with its simple markup feature
The B2C Content Marketing report found that when managing the content creation process only 6 per cent of marketers rated the overall process as "excellent". Further to this, more than 25 per cent of marketers were underwhelmed by the process.
In particular, video isn't the easiest format to provide feedback on because of the very nature of moving images. Reviewers have to pause the video, take a screenshot, print it out, mark up the changes, then scan and email their feedback. Or in another less than ideal scenario, a reviewer simply outlines the changes in a few lines of text and emails this through. Either way it's a time consuming, if not clunky approval workflow process.
Admation's project management software has a video markup feature that enables reviewers to provide clear, concise feedback in just a few easy steps.
A quick guide to using admation's video markup feature
1. Find the spot in the video where you want to provide feedback and press pause. Click onthe 'Take snapshot and annotate' button. Click on the snapshot.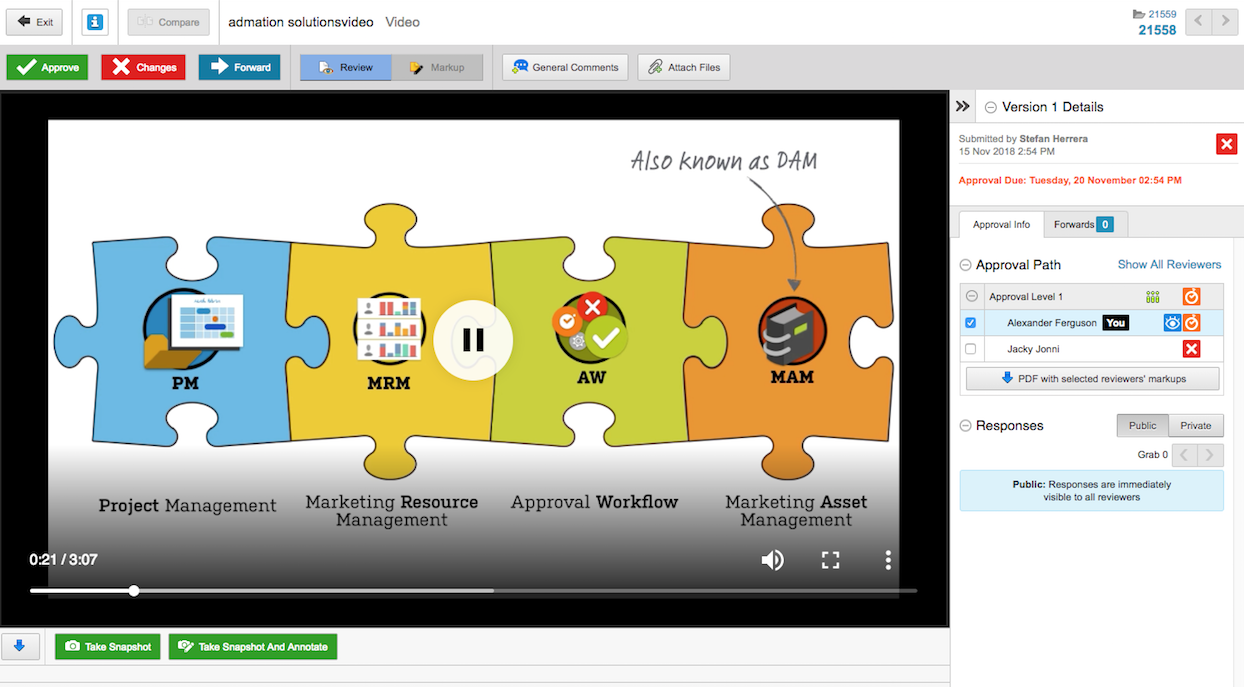 2. Now you're in Markup mode. If other stakeholders have provided feedback, you can view their comments in the side panel under 'Approval Info'. You can click on each individual snapshot to see the feedback. This feature is particularly handy to check that there is no conflicting feedback.
3. To add your markups select a tool, and click and drag to draw a box where you can type in your feedback and then save.
Click the 'Review' button to continue viewing the video, pausing to take snapshots when you want to provide feedback. It's as simple as that.

4. You can provide an overall comment on the video by selecting the 'General Comments' button.
5. You can also click the 'Attach Files' button if you want to include any supporting files or documents with your feedback.
The benefits of managing feedback on video content with admation
Significantly reduce the time reviewers spend on providing feedback for video content
Eliminate handwritten feedback which is often difficult to understand
Improve the accuracy of feedback which in turn decreases artwork revisions
Improve productivity within your creative team with less revisions
Reduce overall bottlenecks in the approval workflow process
Increase turnaround times to market
Have more control and transparency over your video approvals
Manage more video content to meet the ever-growing demand!
To find out more about admation's video markup feature schedule a demo with our product team today!