Admation Releases New Dashboard
Posted by
Jodie Byass

on November 9, 2016

Find me on:

TweetWe?ve been decluttering! - Admation's NEW Dashboard

Decluttering. Experts say it?s good for the mind and good for the soul. Well, recently we decided to do some decluttering of our own in admation.

Check out our slick, new Homepage which we?ve renamed ?Dashboard?, sans the clutter. Notice there?s more room to move and navigate your way around the screen. This means you can get to the crux of your projects sooner than later.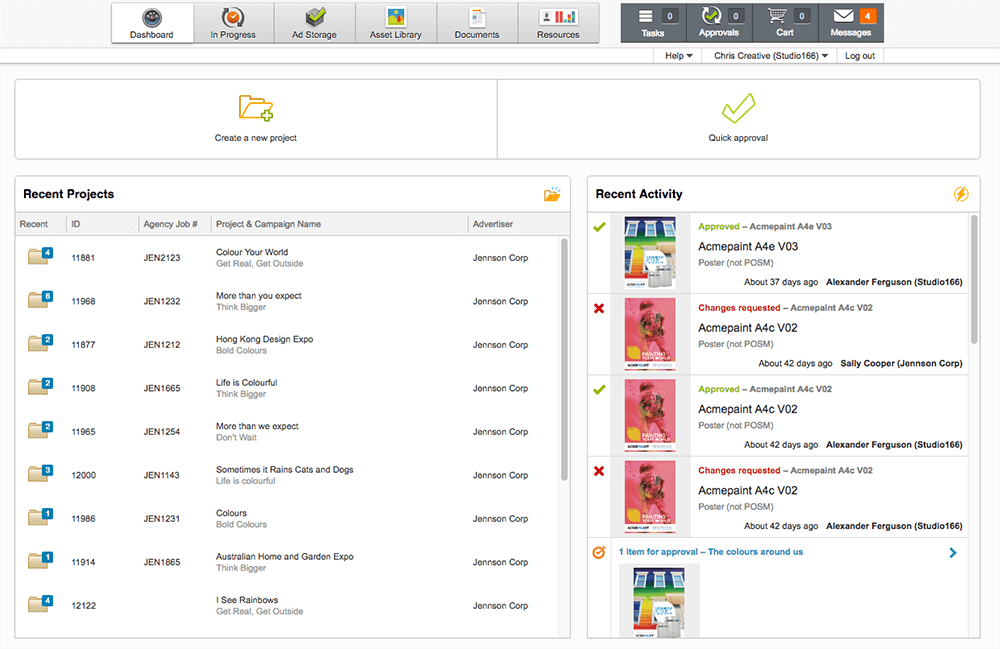 You?ll see we?ve created two fresh new tabs at the top of the page ?? ?Create New Project? and ?Quick Approval? ? to make it even easier for you to do your work. Now you can create a new project on just one screen instead of going through 5 steps! like previously. We?ve also removed some of the excess date fields and now YOU get to decide whether a Campaign and/or Tags field are mandatory. The added bonus is that Dashboard now displays more of your recent projects and activity so that you can keep track of your work more effortlessly.
Yes, less is definitely more.
And if you need to get a project created and approved quickly, then simply click on the ?Quick Approve? tab to push those urgent jobs through.
Benefits of the new Dashboard screen:
Simple navigation
Ascertain what projects are on the go instantly
Loading projects and artwork for approval is faster and easier on one screen
Track recent project task and messages with no fuss
Enjoy your work day more!
If you wish to see the new Dashboard in action, click here to watch a 2 minute video.