Ways Approval Workflow Software helps Marketing Compliance Teams work remotely
Posted by
Jodie Byass

on February 27, 2022

Find me on:

Tweet

As marketing compliance regulations continue become more complex there is increasing pressure on brands to ensure their marketing content is compliant across global regions. As marketing teams try and navigate their way through changing requirements it is more important than ever to ensure the right tools are implemented to support them.

Admation creative project management software is designed to assist marketing and marketing compliance teams manage the approval of content and to ensure that only once it is compliant it is delivered to market. Admation assists these teams who are often tasked with ensuring that all branding and marketing collateral adheres to relevant brand guidelines and legal requirements. There?s increasing pressure on these teams to perform to standard. But increasing workloads and frequently changing regulations are keeping these teams busier than ever. Add into the mix, these teams are now all working from different remote locations and do not have the convenience of sitting in the same office, the pressure has just increased.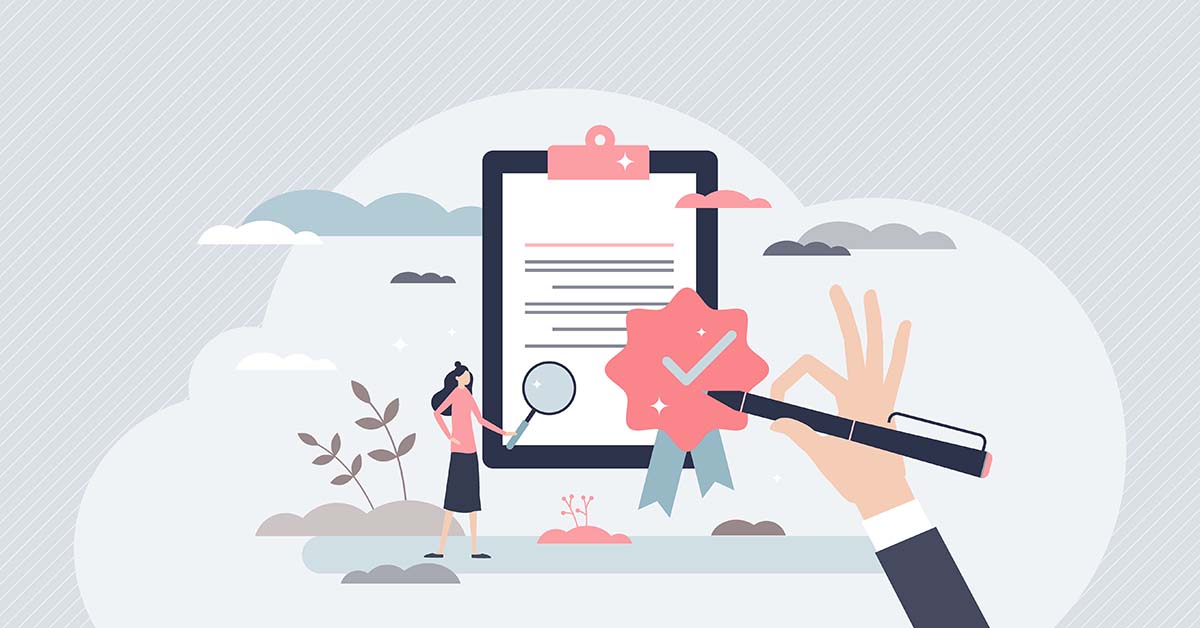 So, lets look at how admation can make things a bit easier for those legal and marketing compliance teams working remotely. admation is amongst some of the best approval workflow software on the market, and here are six key ways that the approval solution can help your legal departments with these challenges.
1. Tiered Approval Paths
Without defined approval processes and pathways in place, it can be easy for crucial teams in the approval workflow to be bypassed or included in the process at the wrong time. For example, there?s no use legal receiving work to review before the brand team have approved it. And there?s no point getting the memo once the work has already gone to market.
It?s critical that Legal teams receive work to review at the right time. Admation?s approval workflow software allows users to set up tiered approvals in advance. This commits the Legal team to review and sign off on artwork only once all other relevant approvals have been received, and reduces instances of the legal team been forgotten in the process. By using secure and pre-templated approval pathways, Marketing Compliance will never be overlooked ever again.
2. Submission Checklists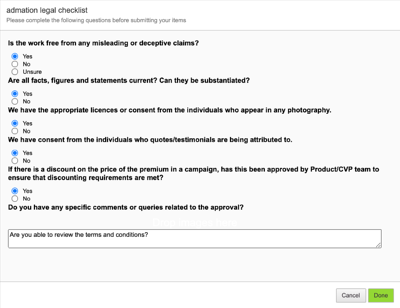 Admation submission checklists encourage stakeholders from sending work for approval that?s is not complete or ready for review.
Submission checklists can be customised for particular projects or businesses, and typically include a set of legal questions that ensure that all work adheres to those guidelines before it?s sent to teams for review and approval. These checklists allow compliance departments to guide the design and marketing teams in the right direction by ensuring that basic legal requirements are met before you even see the work. Ultimately this reduces the volume of revisions, and ensure that legal teams are not reviewing work that is not ready for them.
3. Online Proofing Tools
A clunky feedback system can result in wasted time when requesting changes on artwork. Admation?s integrated online proofing software streamlines the review and approval process, making it a breeze. Online proofing tools allow changes to be clearly defined by outlining an area. Then they create a space to type the feedback or amendments using a clearly identified comments box. Clear online proofing and online annotation tools are key to promoting understanding and clear visualisation of the changes that need to be made, without needing to decipher handwritten markups. Online proofing tools in turn will save countless amounts of time for the legal team.
4. Reserve Job Feature
Doubling up on work and resources can be a timely and costly exercise. To ensure that resources aren?t duplicating their efforts, legal teams can make use of admation?s handy reserve feature. This function allows a legal team member to reserve a job for review in advance, discouraging the double up of work. But the reserve function also works two ways. If a given job is another person?s specialty, the reserve feature also allows team members to reserve work for another person to complete instead. With this added transparency and clear assignment of jobs, you can expect approvals and reviews to be completed more efficiently than ever.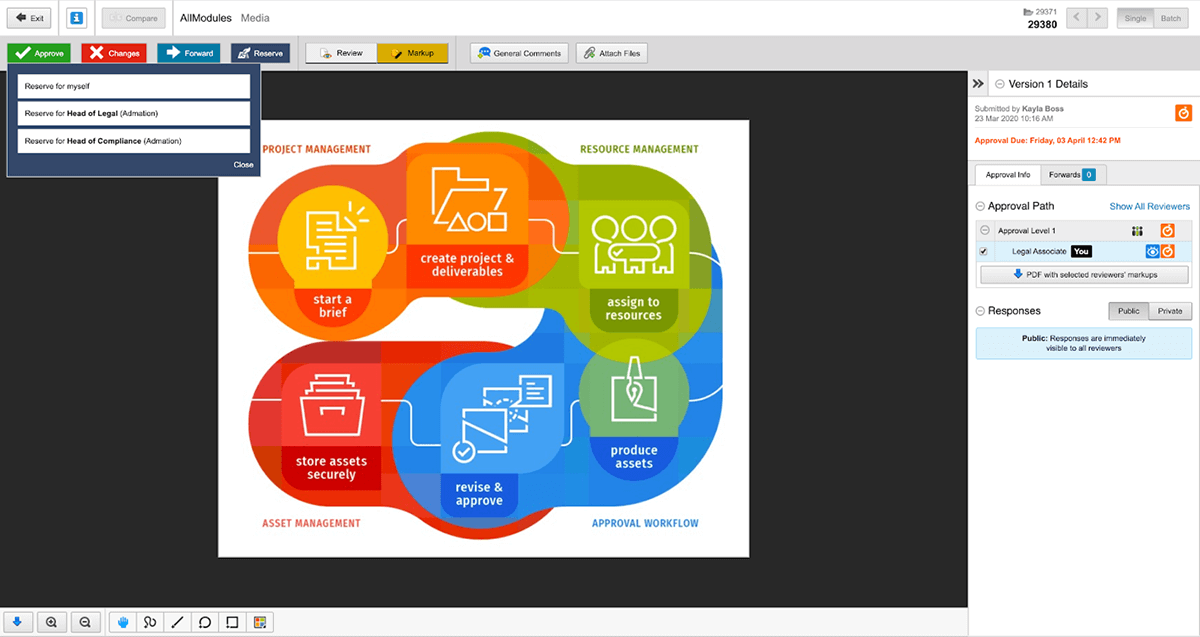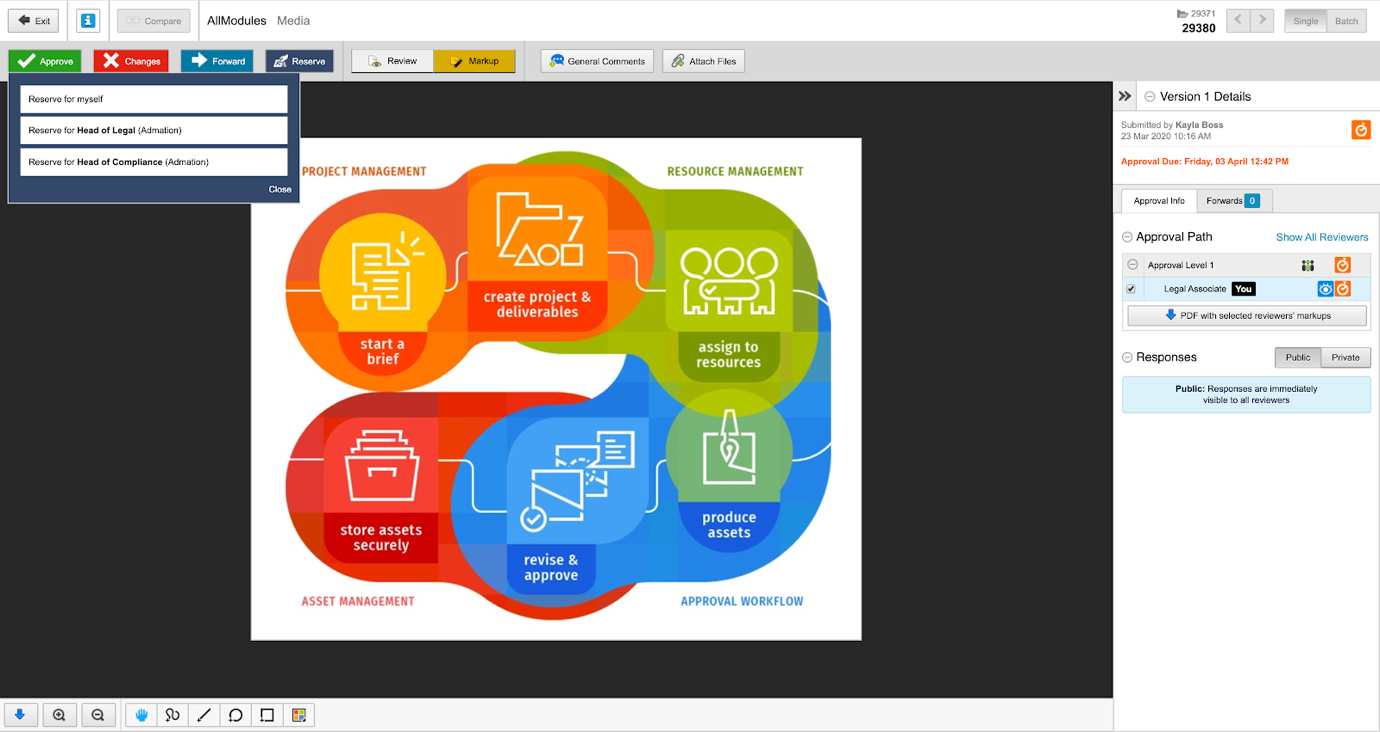 5. Reviewer?s Checklists with Notes Functionality
Many legal teams are in need of a workflow that ensures consistency across regulatory compliance measures. With admation, Legal and Compliance teams can also use their own set of checklists when reviewing work. A reviewer?s checklist can enhance a team?s capacity to review the areas of work that matter most. And where additional information is needed, teams can add Notes to their responses. The Notes feature is predominantly used by regulatory teams who want to cite their regulations, statutes and case law where needed.
6. Audit Trial
Legal compliance shouldn?t have to be a chore. Build transparency into your approval workflows with automatic action tracking and audit capabilities for each and every project. It?s a fundamentally important feature that?s built into each and every admation approval workflow.
Should compliance issues arise, rest assured that teams have access to each project?s audit trail in admation ? providing key insights on who approved what and when.
Legal teams will appreciate using these six best-practice approval workflow features within their roles. Get in touch to see how admation?s legal approval workflow compliance software can benefit your other teams and departments!
Keen to see how admation can transform your marketing compliance and give you greater control over the approval of marketing content? Chat with our product team today!