5 ways admation approval workflow software helps marketing compliance
Jodie Byass — Monday the 29th of August, 2016
Tweet
Do you ever get that sinking feeling in your gut when you realise: legal hasn't approved a campaign that's already live; somebody has used an old marketing asset instead of the most current one; or nobody can remember why an artwork change was made and there's no audit trail to confirm this?
These are common headaches experienced by marketing departments today, which can easily become nightmares if marketing regulations are breached.
Here's five key ways admation's approval workflow software can help your brand stay in control some of marketing compliance.
1. Admation's approval workflow software enables users to set up tiered approvals.
With admation's tiered approvals, your legal or compliance department will never be overlooked in the approval process ever again. This handy feature prompts legal and compliance to review and sign off on artwork at the right time in the approval process. This will not only save on artwork revisions but you can rest assured that your campaigns will not go live with erroneous information. Admation also enables users to consolidate a list of approvals so that stakeholders can estimate and plan for when their input is required.
2. Admation's Approval Checklists ensure that marketing compliance is checked off even before the project is sent to stakeholders for approval.

Today, marketing teams are juggling a number of creative projects at any one time. This means, that without methodical tools and processes, important protocols and information can get overlooked. Admation's
Approval Checklists
is a feature that provides a list of questions and actions that can be customised to particular departments and stakeholders. Each item on an approval checklist needs to be ticked off before the project can be sent on for approval. This provides greater assurance that marketing compliance is being upheld with every project. Not only that, the feature decreases the potential for errors and artwork versions, and improves the overall efficiency of approval workflow.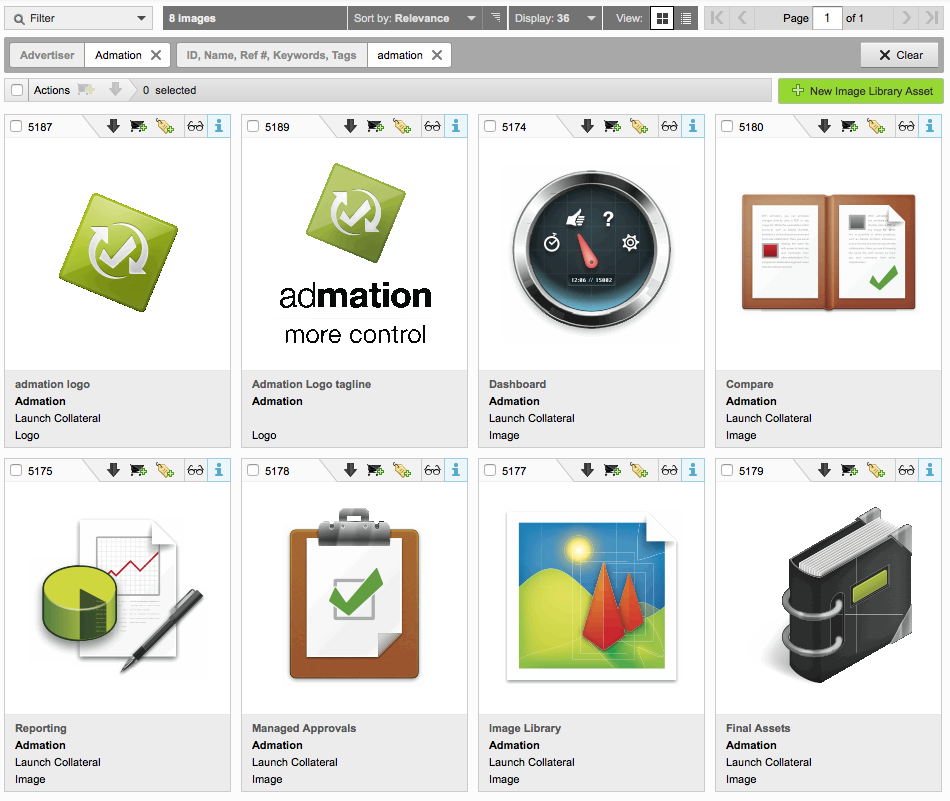 3. Admation includes a DAM feature so that the use of incorrect assets becomes a thing of the past.
The misuse of marketing assets often occurs when people have a difficult time of locating the correct ones and so fudge their way with whatever they can find. Admation's digital asset management (DAM) component offers a secure, central repository where all of the most current marketing assets can be stored and easily located.

4. Admation provides an audit trail for all marketing work.
Admation enables users to save all project briefs, files, feedback and approvals in one central hub, which helps to create an audit trail of marketing work. For example, admation's Online Documents, which can be anything from a project estimate to a creative brief, can be completed and uploaded to the project. Users can then share the document with any stakeholder, which is tracked, providing a complete audit trail for your online documents. Having an audit trail means that users are more accountable for their work and, therefore, more likely to follow marketing compliance rules. If your brand was ever questioned over a breach of regulations, an audit trail might just be the thing that saves your reputation.

5. Admation's online proofing tools mean that markups and feedback are never misconstrued.
Admation's online proofing tools enable users to outline changes on the artwork and send typed feedback with it. This means designers don't have to spend time deciphering handwritten mark ups, the latter of which could lead to mistakes in a final version. Approval feedback can be viewed by other stakeholders, so conflicting requests for changes are also minimsed.
6. Admation's approval workflow software enables legal or compliance to view other stakeholders' feedback.
Admation enables stakeholders to search and view other approvals provided by different departments. This feature enables legal or compliance to see whether marketing compliance is being maintained by other stakeholders and remedy this if it isn't.
Keen to learn more about admation? Register for our webinar on-demand now!